Go to town on the best steak in the city.
By Mai Pham, Timothy Malcolm, Geneva Diaz, Daniel Renfrow, and Stephanie Bartels October 10, 2022 Published in the November 2018 issue of Houstonia Magazine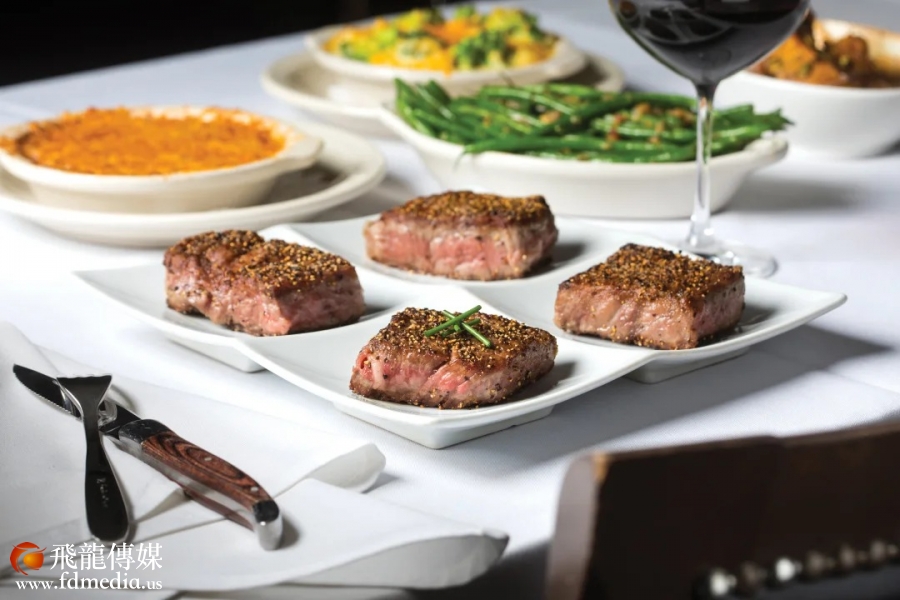 The strip flight at Killen's Steakhouse: a must for the strip connoisseur.
IMAGE: SHANNON O'HARA
THE TEXAN PALETTE is made up of Tex-Mex delicacies, seafood sourced from the Gulf Coast, the finest barbecue money can buy, and of course, a fine selection of steak. You'd be hard pressed to find anything that brings a Houstonian more joy than a juicy cut of beef, (okay maybe there are a few things like the rodeo and crawfish season, but still). The point is we love beef and we're always on the hunt for the perfect filet, ribeye, or cutlet to pair with a delicious glass of red. Lucky for you, we took on the laborious task of narrowing down the best of the best and found 19 amazing spots to get the meat sweats in Houston.
To make our final selection of the best steakhouses, we looked at menu breadth; steak sourcing and aging; available cuts and cooking methods; and, finally, service, sides, and wine lists.

Here are our favorites:
Toro Toro / DOWNTOWN
Thematically, Toro Toro, a pan-Latin steakhouse from celebrity chef Richard Sandoval that showcases the cuisine of Latin America alongside steak and sushi, just makes sense for Houston, especially since the buzzy new restaurant is known to put on quite a show tableside. Signature starter items like the amarillo ceviche and smoked beef tiradito arrive in a smoky flourish. Then comes the main course: for parties that order the Toro Toro Churrasco or the 52-ounce tomahawk rib eye, the restaurant employs a classic guéridon, which is wheeled to the table with enough pomp and circumstance to make heads turn. For the tomahawk, put your phone on video mode and get ready for a grand show, because the steak is doused in mezcal, set aflame, then sliced and served to order.
Marmo / MONTROSE
High-end Italian chophouse Marmo debuted in Montrose Collective, Houston's newest mixed-use development hub, back in April, and it's already making waves through a robust menu heavy on steaks, pasta, and seafood dishes—the essentials, in other words. Standout dishes on its menu, which was curated by executive chef Eli Jackson and Julian Marucci, a chef-partner with Atlas Restaurant Group (also the force behind buzzy H-Town spots Ouzo Bay and Loch Bar), include a beautifully plated hamachi, a heavenly squid ink campanelle, and any of the restaurant's 45-day dry-aged steaks, which come in cuts like American Wagyu, Black Angus, and veal.
Taste of Texas / MEMORIAL CITY
Some call it rustic; others call it kitschy. Either way, the décor, which plays up the Texan theme with animal trophies, guns, and artifacts collected by owner Nina Hendee, is part of the allure at this newly remodeled, family-friendly institution, which, despite its no-reservations policy, draws massive crowds willing to wait over an hour for a meal. The reason? Classic certified angus steaks (served on sizzling cow-shaped platters upon request), an expansive salad bar, and servers happy to help diners commemorate the evening with a photo-op—red bandannas, cowboy hats, and all.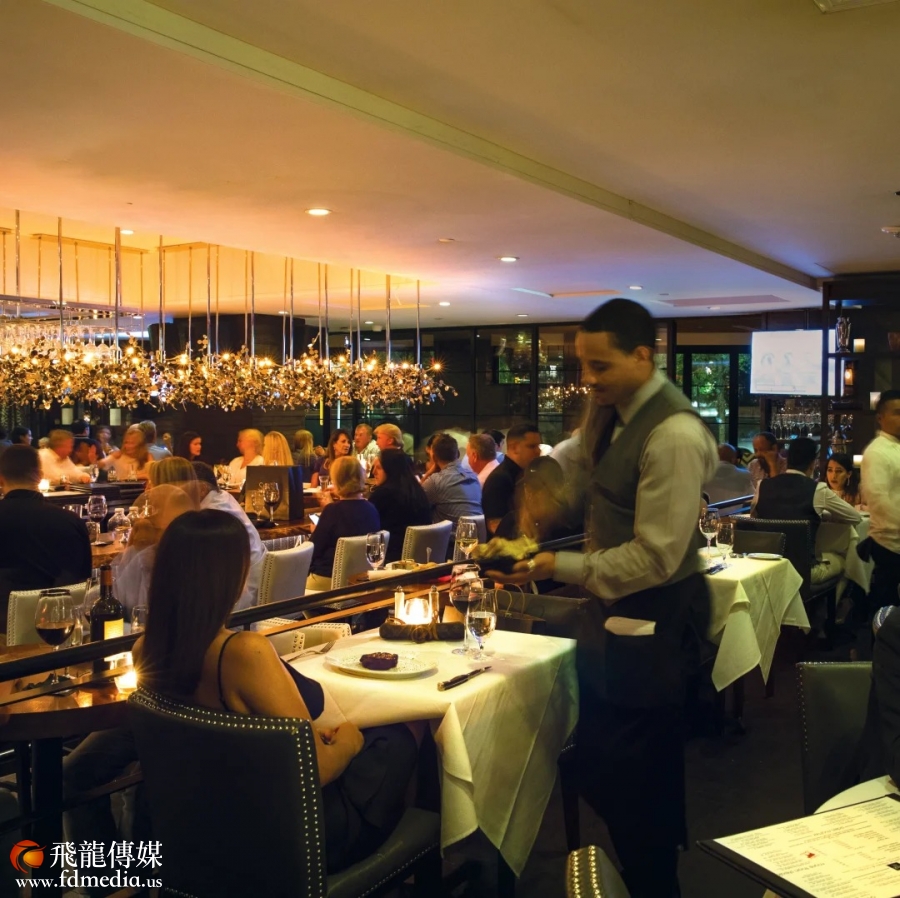 See and be seen at Steak 48. /IMAGE: SHANNON O'HARA
Steak 48 / RIVER OAKS
No expense was spared in the design of this glitzy, glamorous, and 13,700-square-foot stunner, teeming with fast cars and pretty people, which opened in 2016. From the moment you arrive, you're in for an experience. Phenomenal king crab, jumbo shrimp, and shellfish platters are plated to impress, while hand-cut, USDA Prime wet-aged steaks more than satisfy the meat-hungry, as do other entrées, including the slow-cooked short ribs. For the full see-and-be-seen experience, request a table overlooking the buzzy downstairs bar area.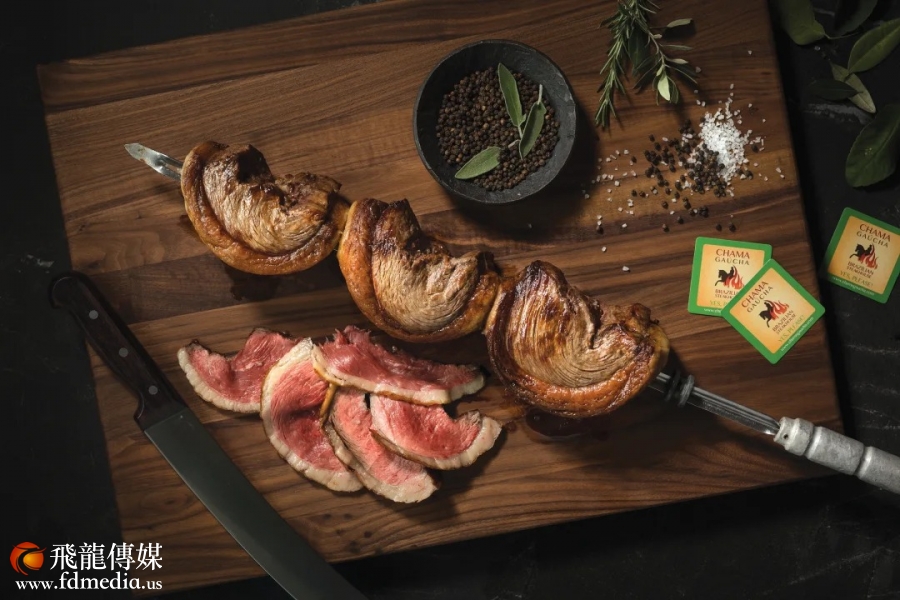 The picanha, or sirloin cap, is Chama Gaucha's star cut.
IMAGE: SHANNON O'HARA
Chama Gaucha / GALLERIA
Service can be a little over-eager at this Brazilian all-you-can-eat rodízio, but no one ever leaves unsatisfied. From the minute you sit down and turn your service button from red to green, the parade of meat begins: 12 cuts total, all cooked over a charcoal grill, ranging from the signature picanha (a prime sirloin cut) to the cordeiro (rack of lamb) to the incredibly tender costela de boi (beef ribs). Leave room for a trip to the enormous fresh salad bar, plus sides of black beans, rice, mashed potatoes, caramelized bananas, and the highly addictive Brazilian cheese bread called pão de queijo.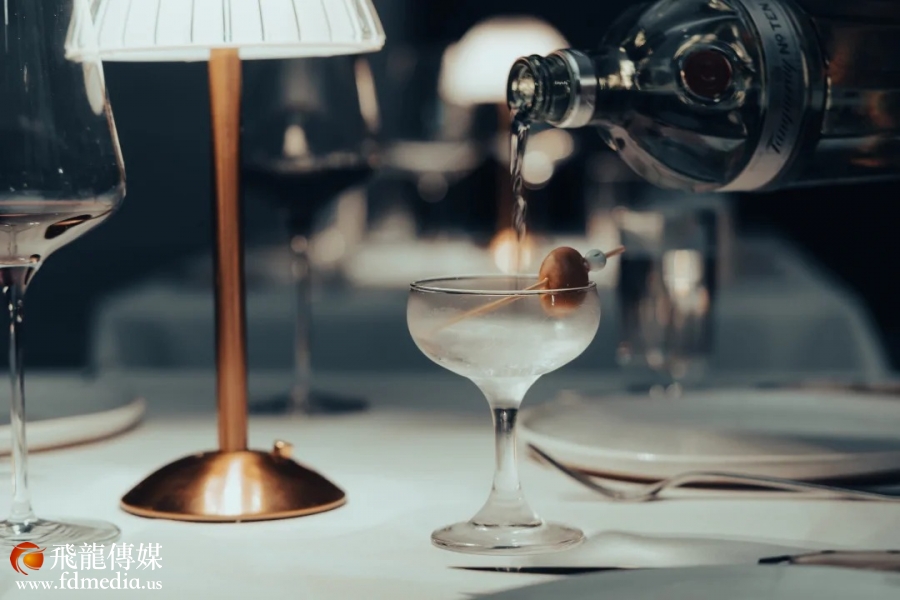 Patton's is a sumptuous, speakeasy-style steakhouse that accommodates 38 guests.
IMAGE: BARRETT DOKE
Patton's / HEIGHTS
Speakeasy-style steakhouse Patton's debuted in the Heights in March 2022, and the intimate and low-lit spot is already making waves. The 1,500-square-foot restaurant, tucked away behind the wine cellar of popular restaurant Savoir, accommodates 38 guests and features old-world decorative accoutrements like ornate chandeliers, dark and moody chairs, plush leather banquettes, and sophisticated table lighting. Patton's elevated menu includes prime cuts like rib eye, filet, and a Wagyu New York Strip, as well as sides like creamed corn, broccolini, and mashed potatoes. Starters at Patton's include crab cakes, tuna tartare, and beef carpaccio. The steakhouse also offers guests access to a substantial wine menu and a curated list of classic cocktails.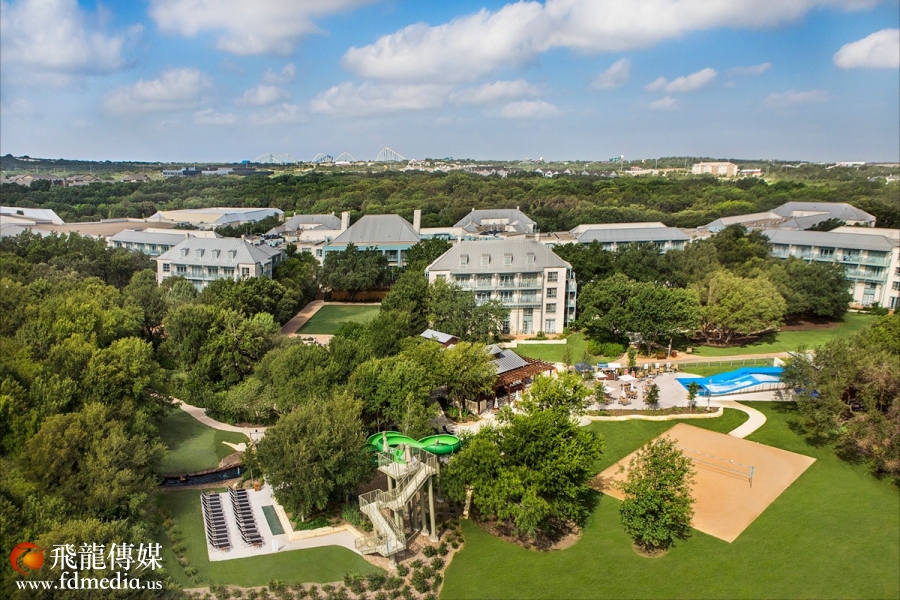 SPONSORED
Escape to the Hill Country. Texas Style.
An experience like no other.
Presented by Hyatt Regency Hill Country Resort and Spa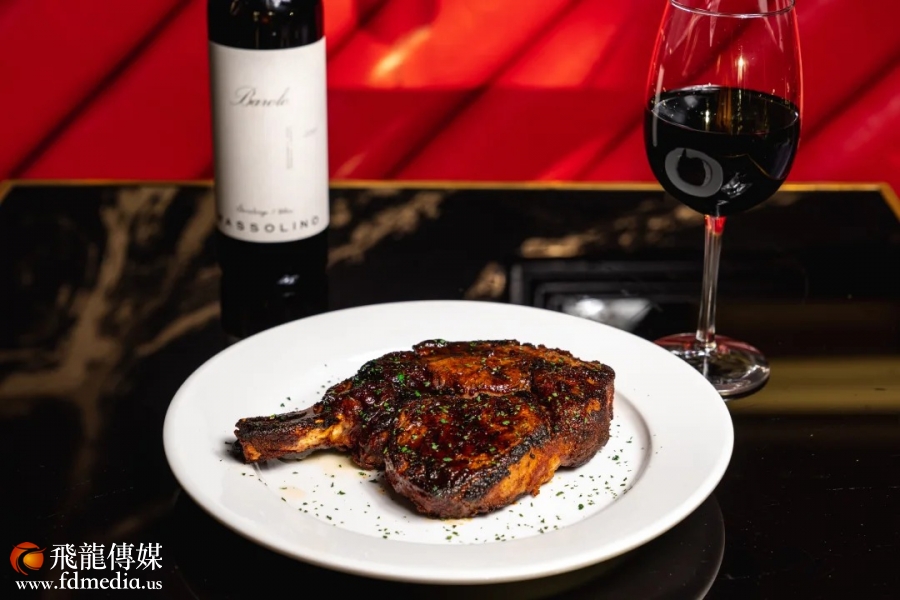 Gatsby's Prime Steakhouse, located near the Museum District, is inspired by Jazz Age oppulence.
IMAGE: GATSBY'S PRIME STEAKHOUSE
Gatsby's Prime Steakhouse / MUSEUM DISTRICT
Gatsby's Prime Steakhouse is a Jazz Age-inspired steakhouse serving up cuts so notable they might have your inner Nick Carraway reaching for a notebook. Located near the Museum District, Gatsby's serves up the finest USDA prime steaks alongside uber-fresh seafood and shellfish. The restaurant's classically inspired side dishes and appetizers are also notable, and include offerings like foie gras, baked oysters, mac & cheese, whipped potatoes, and a cream corn brulée. The interior of Gatsby's features glamorous flourishes like ornate chandeliers, red leather booths, black and gold décor, and sumptuous marble elements. The soundscape of Gatsby's, which often hosts live music, is heavy on classic jazz, Frank Sinatra, and Dean Martin.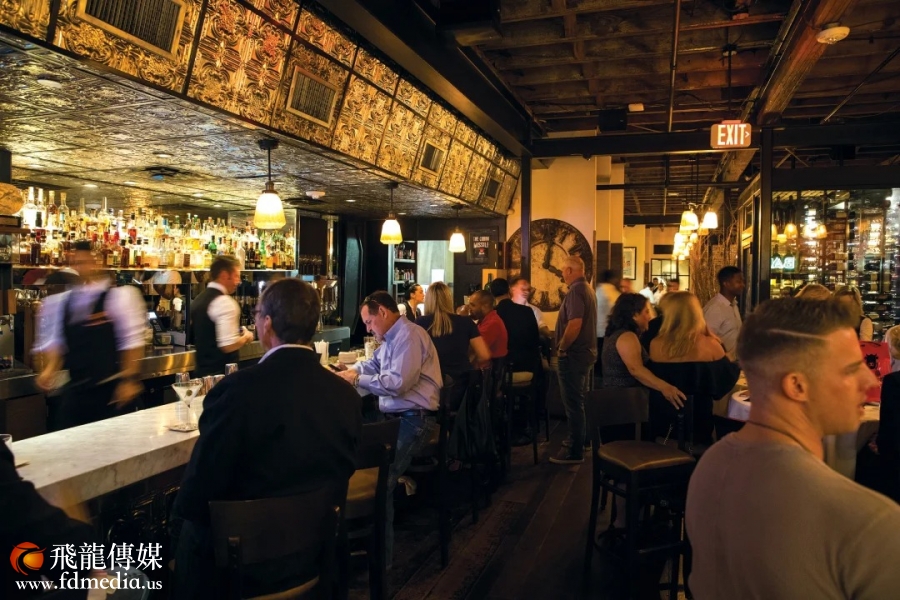 The buzzy bar at B&B Butchers. Care to splurge? The wine list includes a $12,000 bottle of Premier Cru.
IMAGE: SHANNON O'HARA
B&B Butchers & Restaurant / WASHINGTON AVE
When this place opened in 2015, it was the ambitious new guy with the audacity to take on Houston's long-established big guns. Today it's hard to have a conversation about steak in this city without acknowledging what B&B has become: a Houston steakhouse experience par excellence. Owner Benjamin Berg took all the elements that make an extraordinary steakhouse and merged them under one roof. Butchering and dry-aging are done on site. Menu options abound, ranging from classics like center-cut filets to 55-day dry-aged Prime rib eyes to the king of all meats: the certified Kobe beef from Japan. Add in a lively bar, an on-site sommelier, and old-school service, and you've got it all.
The cozy interior of Killen's STQ.
IMAGE: SHANNON O'HARA
Killen's STQ / TANGLEWOOD
Offering just 60 seats in a rustic, cabin-like setting, chef/restaurateur Ronnie Killen's first restaurant within Houston's city limits represents a tour de force in meat mastery. Quintessentially Texan in spirit, featuring interesting dishes such as beef-short-rib tamales, charred corn bisque with summer succotash, and pecan-smoked pork belly with cherry-habanero barbecue sauce, the menu combines classic flavors of smoke and char with modern twists, like dry-aging and Wagyu. Daily specials by executive chef Teddy Lopez—think 20-day, dry-aged port-coffee-glazed brisket served with parmesan gnocchi—are always interesting. Save room for the bacon tres leches bread pudding or smoked chocolate cake.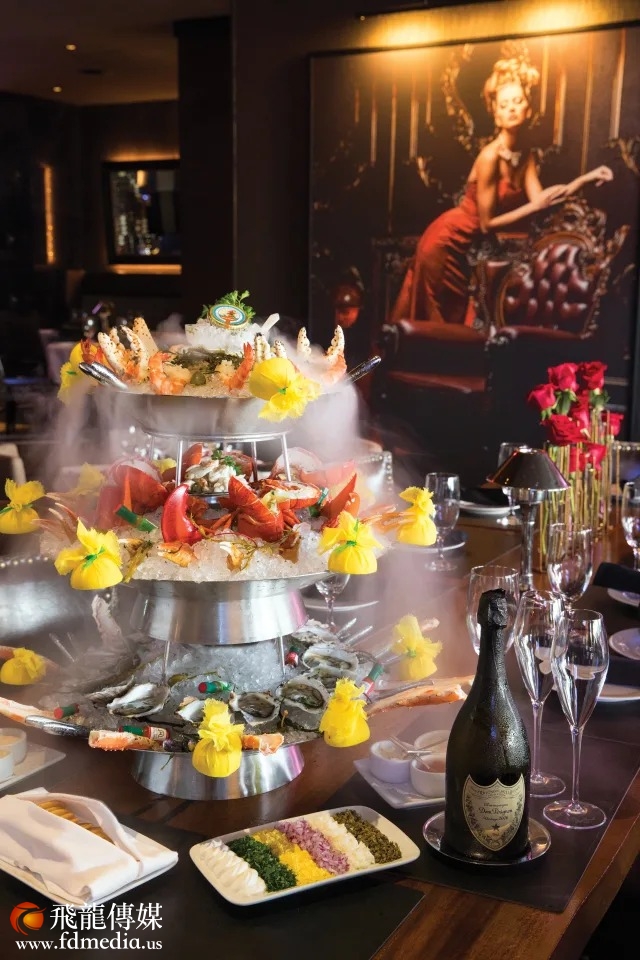 Start your Mastro's experience with the stunning iced seafood tower.
IMAGE: SHANNON O'HARA
Mastro's Steakhouse / TANGLEWOOD
Debuting at the end of 2018 alongside owner Tilman Fertitta's opulent Post Oak Hotel, right next to his Bentley, Rolls Royce, and Bugatti dealerships, this spot is where the A-listers play. Spend lavishly, and you will be rewarded. Hot-ticket items include the seafood platter that arrives in a wow-inducing cloud of smoky liquid nitrogen, the decadent A5 Wagyu cooked on a hot rock, and any of the 16 cuts of USDA Prime steaks. Come for the food; stay for the Instagram-worthy outdoor patio and fountain wall, the 20,000-bottle wine list overseen by master sommelier Keith Goldston, and the chain's first dedicated whiskey bar.
Doris Metropolitan / MONTROSE
You won't find Caesar salad, mac 'n' cheese, or potatoes au gratin at this Israeli concept. Instead, starters like a vibrant tomato salad prepared four ways and Mediterranean octopus whet your appetite for what's to come: 21- or 31-day house-dry-aged USDA Prime cuts, cooked sous vide for several hours, then grilled to succulent, flavorful perfection. Order four or more steaks, and they'll be delivered in dramatic fashion, on a flaming butcher's board.
Pappas Bros. Steakhouse
DOWNTOWN & GALLERIA
This is, without question, one helluva steakhouse, a swanky meat mecca that consistently delivers one of the best experiences you'll have anywhere. USDA Prime steaks are dry-aged for 28 days, seared on the grill for a crisp, brown crust, and basted in butter just before serving—perfection. The exceptional, award-winning wine program features master sommelier Steven McDonald overseeing a combined inventory of more than 4,000 labels and 65,000 bottles from every wine-producing region in the world.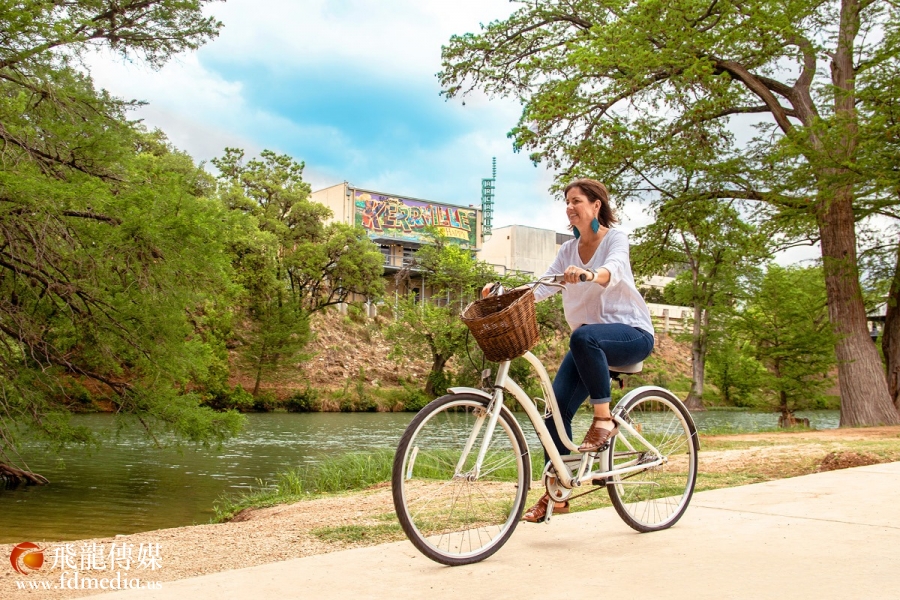 Kerrville, Texas
Craft Your Summer Hill Country Getaway in Kerrville
Presented by Kerrville, Texas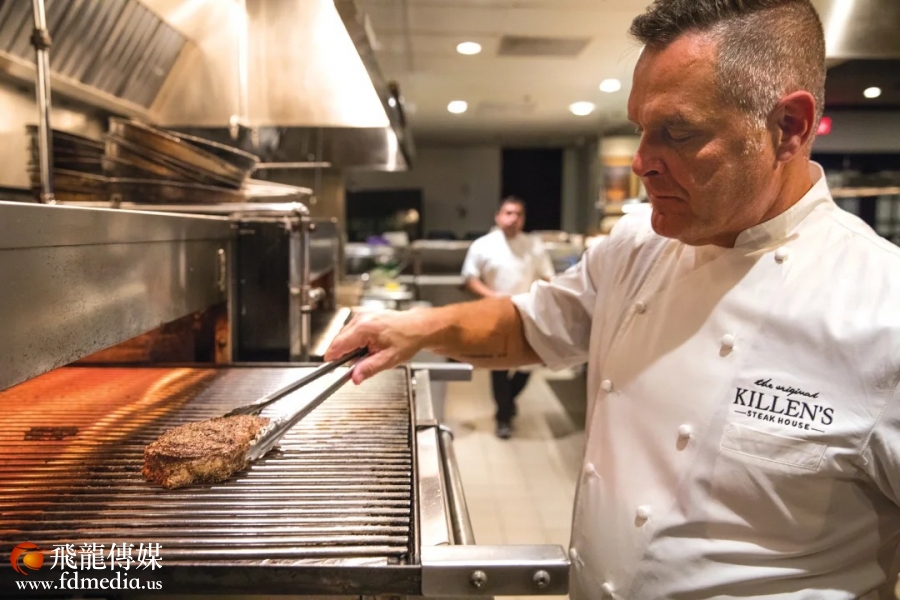 Ronnie Killen on the grill at Killen's Steakhouse in Pearland.
IMAGE: SHANNON O'HARA
Killen's Steakhouse / PEARLAND
Making its debut in 2006 and getting a revamp in 2015, chef Ronnie Killen's flagship steakhouse is built on two and a half acres, with a huge main dining area, a private banquet room, a bar, a dry-aging room, an open kitchen, a patio, and a wine room for storing some 700 labels. If version 2.0 isn't quite as cozy as the original, it still delivers on juicy steaks with a pleasingly crusty, cast-iron sear. Choose from boneless wet-aged and dry-aged rib eyes, filets, and New York strips, or splurge on higher-end domestic Wagyu and Japanese A5 Wagyu from Kagoshima, Japan. Creative, scratch-made starters and sides—especially the jumbo lump crab cake and the famous creamed corn—are big hits, as is the warm carrot cake.
Perry's Steakhouse & Grille / MEMORIAL
There are Perry's locations all over Houston, all of them very good, but none shines quite as brightly as the Memorial flagship. Now one of the most stylish steakhouses in the city, thanks to extensive post-Harvey renovations, the place offers old-school service—think chateaubriand, or Perry's Famous Pork Chop, served tableside—along with wet-aged USDA Prime cuts cooked to a beautiful sear. Portions are huge here, and pricing is competitive.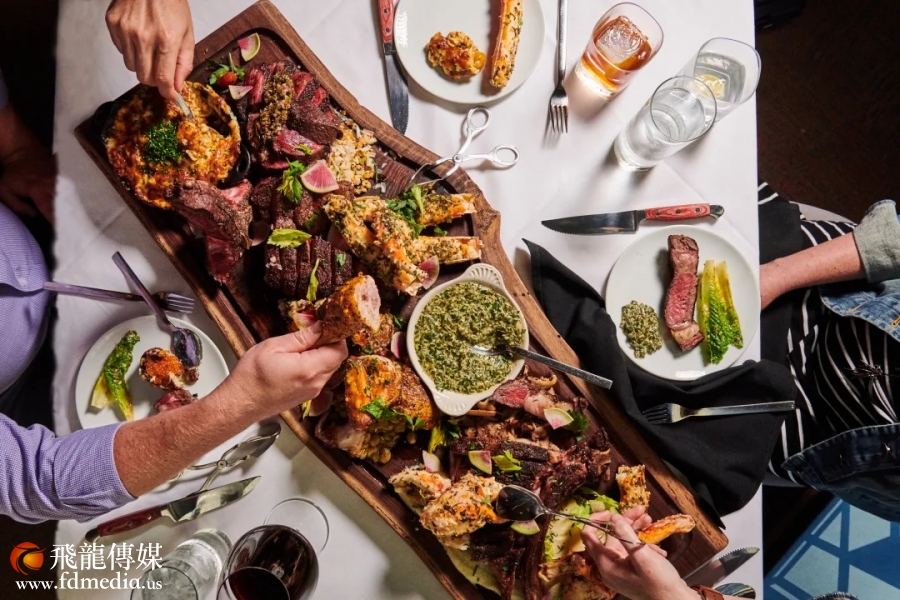 The insane Baller Board at Georgia James is Chris Shepherd in food form.
IMAGE: AMY SCOTT
Georgia James / HYDE PARK
Chris Shepherd closed his massively popular restaurant Underbelly in 2018, opening in its place a full-scale steakhouse that pays tribute to his mom and dad and, even more, personifies the nationally notable chef. The steaks, like dry-aged long-bone rib eye from 44 Farms and the underrated, wet-aged Wagyu zabuton from Snake River Farms, are fitting stars from a camera-friendly guy like Shepherd, but geeky, big-kid Midwestern starters like bacon sausage and hash browns and the collard green and king crab dip nearly steal the show. Hell, just sit there with a charcuterie board and take in the sights of a bustling dining room, where nearly everyone is celebrating something to a soundtrack of Van Halen and Def Leppard—Chef wouldn't want it any other way.
Guard & Grace / DOWNTOWN
With its tall ceilings and bottom-to-top windows, bronze rods hanging from the rafters, swanky two-seaters with individual pen lights, and cozy booths overlooking a massive pit-style kitchen, Guard & Grace certainly earns its big-money setting Downtown at One Allen Center. The restaurant has smartly shed early novelties like the absurd $400 Millionaire Fajitas, putting more emphasis on the steak. That's good, because Guard & Grace does beef right, like the simple luxury of hanger steak rubbed with a house blend and finished with a beautiful demi-glace. Away from the steak, we recommend redfish and the starter of oak-fired carrots.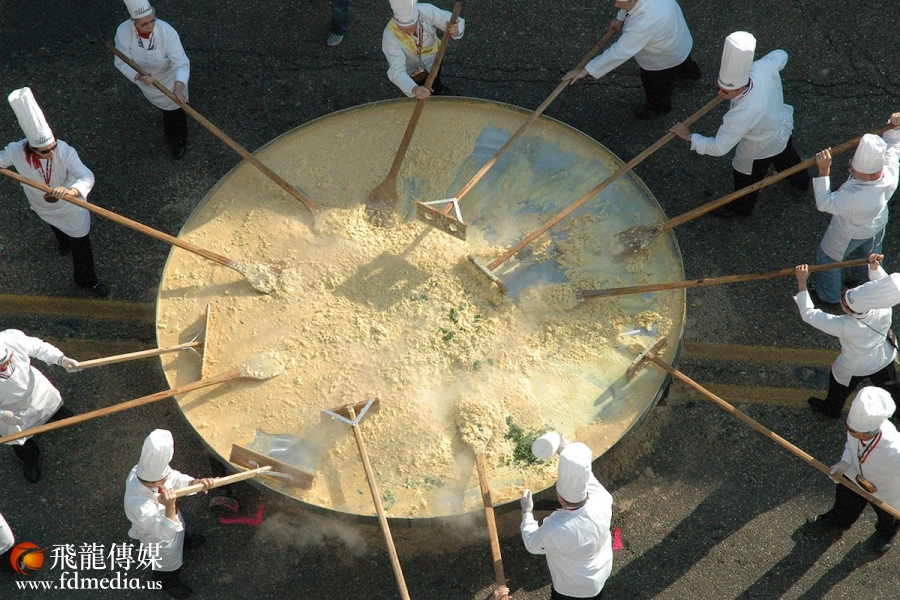 SPONSORED
Experience Vermilion Parish, "The Most Cajun Place on Earth!"
A warm welcome and affordable family fun that won't break the bank awaits you.
Presented by Vermilion Parish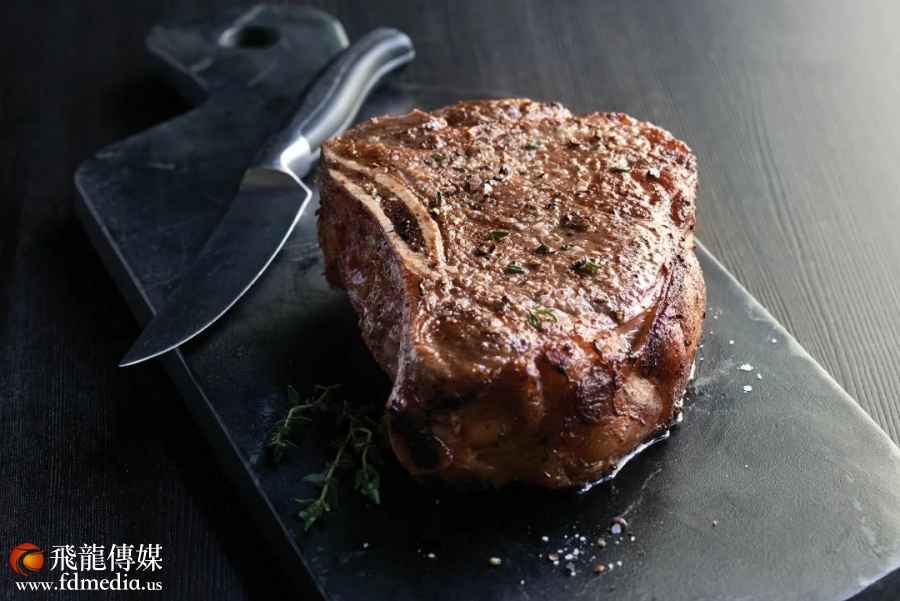 The bone-in filet at Vic & Anthony's.
IMAGE: MELISSA BYONE
Vic & Anthony's Steakhouse / DOWNTOWN
This restaurant has one of the best cuts of beef in the Bayou. For starters, try the colossal shrimp cocktail or steak tartare, and polish off with a glass of wine from their world-class extensive wine selection. Order your steak bone-in, cooked in the broiler for a tasteful external sear and finished with butter. Accompany your steak with au gratin potatoes and creamed spinach.
Brenner's Steakhouse on the Bayou
MEMORIAL PARK
While paying homage to the original owners' menu favorites (Herman and Lorene Brenner, who opened the original Brenner's in 1936), Brenner's on the Bayou hosts its own unique menu, wine list, and unforgettable backdrops. Located on a picturesque retreat near Memorial Park, this two-story dining experience offers breathtaking views from any table. On a good-weather day, choose an outside seat to take in the lush greenery and stone waterfall while biting into your Akaushi Beef steak or indulging in your pasilla chile butter roasted oysters. Executive chef Ryan Braden features an original collection of steak and seafood specialties.
Del Frisco's Double Eagle Steakhouse
UPTOWN & GALLERIA
Although this national steakhouse chain is competing with locally owned steakhouses in and around the Houston area, the food and service remain consistently first-rate. Start with the crab cake and lettuce wedge with Del Frisco's homemade blue cheese dressing. For the entree, the Governor's 6 oz. Filet with a side of Chateau Potatoes or al dente asparagus with toasted almonds will not disappoint. There are 16 locations of the Double Eagle Steakhouse nationwide, including one in Uptown in the Galleria shopping complex.
Filed underSteak, Meat, Beef, Mastro's Steakhouse, Perry's, Steak 48, Doris Metropolitan, Pappas Bros. Steakhouse, Killen's STQ, Killen's Steakhouse, Taste of Texas, Chris Shepherd, Guard and Grace, B&B Butchers, Vic & Anthony's, Valentine's Day